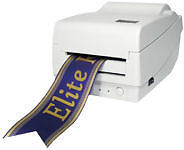 Buy the ERP-702 Ribbon Printer with Confidence from SignsSeen!
The E702 Ribbon Printer is an outstanding thermal transfer ribbon printer. With advanced standard features and flexible options, the ERP-702 is engineered to meet your ribbon printing applications. Manufactured with an all metal print mechanism, it provides for a more durable and reliable printer. With innovative TrueSpeed technology, the E702 achieves a constant print speed of up to 3 inches per second. It requires minimum counter space, and its light weight allows the printer to be easily moved to any convenient location. Our printer comes with a two year warranty.
Durable & Reliable

– Engineered using only the highest quality components and built with an all metal print mechanism to deliver consistent printing and low printer maintenance

Versatile

- Print single or multiple narrow ribbons ranging in sizes from one quarter inch up to four inches. Savings will vary. Print a thirty-six inch memorial ribbon for as little as ten cents or multiple narrow ribbons for less than two cents

Customize

– The easy to use software allows for quick setup and printing. Get creative with fonts, images and colors. Stack (prize ribbons) or rotate your text 360 degrees. When completed, save your settings for your next print job

Efficient

– The printer uses a left margin alignment which provides for a more efficient use of transfer film, potentially cutting your transfer film costs in half

Multi-language capability

– Prepare and print your ribbons in any language using your desktops true-type format language fonts (Truetype format language fonts must be present in your Windows font folder).
Available at two places:
Buy it under "Ribbon Printers" at
http://stores.ebay.com/SignsSeen
or see the printer with more available accessories at
http://www.signseen.com/servlet/the-Ribbon-Printer/Categories
.
And, if there are any questions, contact us at 614-543-1397!!
Thanks for visiting!